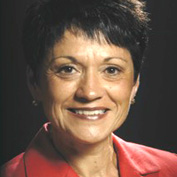 Deputy-Chair, Advisory Panel on Healthcare Innovation for Health Canada
Francine Girard, RN, PhD, has just completed her second mandate as Dean and Associate Professor at the Faculty of Nursing at the Université de Montréal, where she has been since June 2007. Under her leadership, the Faculty implemented a primary care nurse practitioner program. Numerous research and nursing-training partnerships with several countries on the international scene have been initiated during her mandates. Dr. Girard received the 2015 Prix Florence Leadership award from the Order of Nurses of Quebec. She has also been a Member and Deputy-Chair of the Advisory Panel on Healthcare Innovation for Health Canada, 2014-2015. Dr. Girard chaired the Quebec Task Force on Working Conditions of Nurses. In 2013, she was a member of the Quebec inter-ministerial committee on the future of nurses training.
In 2012, she was a member of the Canadian Nurses Association's National Expert Commission. In the same year, she received the Award for Academic Administrative Excellence from the Canadian Association of Schools of Nursing. From 2000 to 2003, she was the principal vice president and director of nursing for the Calgary Health Region, principal vice president for Professional Practice and Research, and director of nursing until 2005. In 2006, she was vice president, Western Region, for Canada's Victorian Order of Nurses (VON).