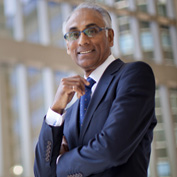 President and CEO, Canada Health Infoway
Mr. Alvarez is a leader in Canadian health care. He is known for taking on challenging mandates and building successful organizations.
As President and Chief Executive Officer of Canada Health Infoway, he has been a catalyst for accelerating the development of electronic health records in Canada. He has established strong, collaborative relationships with the federal, provincial and territorial governments and other stakeholders as the foundation for solid progress. He has articulated a broad national vision for reforming Canada's health care system through innovation and technology. On the international front, he has helped to position Canada as a world leader in health care renewal.
Mr. Alvarez earned the Institute of Corporate Directors certification at the Rotman School of Management. In 2007 he was recognized as the 2007 National Builder Inductee to the Canadian Information Productivity Awards (CIPA) Hall of Fame for the leadership he has exercised throughout his career (with the Government of Alberta, the Canadian Institute for Health Information and at Infoway) in promoting the application of innovative technology to improve health care delivery for Canadians.
Prior to his role at Infoway, Mr. Alvarez also played a key role in harnessing the power of information to improve health care. As former president and chief executive officer and ex-officio board member of the Canadian Institute for Health Information (CIHI), he helped CIHI evolve into a well-known and respected organization with strong ties to the research community.
Mr. Alvarez is a frequent speaker and facilitator at national and international health care conferences and is a past recipient of the Who's Who in Healthcare Award. He is a Board Director with Ontario Health Quality Council and an honorary member of the C.D. Howe Institute Health Policy Council.
Related Articles