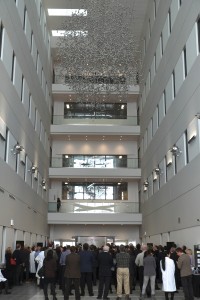 HOW DOES PATIENT ENGAGEMENT IMPROVE CLINICAL RESEARCH?
The MUHC-ISAI's 2016 Research Symposium
June 30, 2016, 9:00 to 12:00
Amphitheatre of the Research Institute of the MUHC, 1001 Decarie blvd, Montreal
Conference chairs:
Dr. Vassilios Papadopoulos, Executive Director and Chief Scientific Officer, RI-MUHC;
Dr. Jean Bourbeau, Director, McConnell Centre for Innovative Medicine, RI-MUHC;
Ms. Patricia O'Connor, Senior Advisor, Patient Engagement, MUHC.
This event introduces two internationally-acclaimed initiatives that are narrowing the distance between patient and researcher and have the potential to dramatically accelerate and improve the development and adoption of therapies that respond to patient priorities. Following these presentations, a roundtable discussion among Quebec government, research, patient and industry leaders explores how organizations are engaging patients in the research enterprise and what they see for the future.
JUNE 30, 2016
9:00  Welcome from the chairs
Dr. Vassilios Papdopoulos, Dr. Jean Bourbeau and Ms. Patricia O'Connor
9:10 Keynote 1
Dr. Peter Margolis, Co-Principal Investigator, C3N ; Director of Research and Associate Director, James M. Anderson Center for Health Systems Excellence, Cincinnati Children's Hospital Medical Center
Ms. Jennie David, Patient C3N Improve Care Now participant
The Collaborative Chronic Care Network (C3N) is a system that harnesses the collective intelligence of patients, clinicians, and researchers and distributes the production of knowledge, information, and know-how over large groups of people, dramatically accelerating the discovery process.
VIEW THE POWER POINT PRESENTATION

10:00 Keynote 2
Dr. Emil Chiauzzi, Research Director, Client Services, Patients Like Me
PatientsLikeMe is a platform, founded in 2004, where patients can share and learn from real-world, outcome-based, patient-reported health data. Its objective is to transform the way patients manage their own conditions, change the way industry conducts research and improve the way patient care is delivered. As of May 2016, it had 425,000 members representing 2500+ conditions.
VIEW THE POWER POINT PRESENTATION

11:00 Roundtable discussion
What does patient engagement in clinical research mean to you and your organization? How is your organization addressing the challenges and opportunities of patient engagement?
Moderator:
Dr. Jean Bourbeau, Director, Centre for Innovative Medicine, MUHC-RI
Participants:
Mr. Mario Di Carlo, Patient Advisor
Mr. Paul Lirette, President, GlaxoSmithKline Canada
Dr. Michel Bureau, Associate Deputy Minister, Health Services and Academic Medicine, Ministry of Health and Social Services, Québec
Dr. Marc Lefebvre, Vice President, Scientific and Regulatory Affairs, Algorithme Pharma
Dr. Susan Bartlett, Associate Professor, Faculty of Medicine, McGill University; Canadian representative, Patient Reported Outcomes Measurement Information System (PROMIS) International Steering Committee
_______________________________
We thank McGill University's Faculty of Medicine, Abbvie, Boehringer-Ingelheim and Roche for supporting this event.